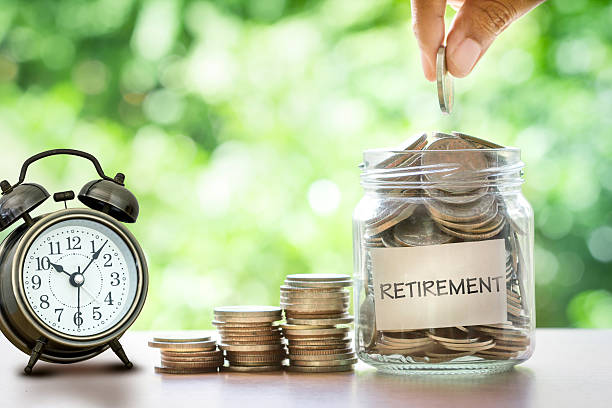 "Take the money you'd normally save for retirement and put it into an account for emergencies."
As the coronavirus spreads across the US, most of our lives have come to a halt. Some Americans are already out of work and millions may end up losing their jobs during a potential recession, says CNBC in the article "Financial planner: Here's when you should temporarily stop saving for retirement during the pandemic." What's the best course of action for these uncertain times?
Financial advisors typically set a goal of a small portion of household income, usually 10-15%, to be set aside for retirement. Based on your situation, now might be a time to scale that back or stop contributing to retirement accounts, if you don't have cash savings to fall back on in the short term.
If you don't have three to six months of emergency funds available—which most Americans do not—then now is one of the only times that the financial professionals are advising putting a temporary halt on contributing to retirement accounts.
What to do with that money? Take the money you would normally be putting aside for retirement and put it in an account for emergencies, if you are able to do so. This is not an ideal time, but hopefully it is a short-term change. Make a commitment to yourself and your retirement to start contributing once you are back on normal financial footing.
Having an emergency fund right now is critical. Legislation to help is being passed, but how much help will be available for individuals, and when it will be available, is anyone's guess. If you or the family's main breadwinner becomes ill and can't work, or if your job is among those lost because of the coronavirus, having a cash cushion of any kind will be important.
Every news cycle brings more things to worry about, so having an emergency fund also can provide some peace of mind. When we are worried on a chronic basis about paying for unexpected expenses, the stress can take a toll on our physical well-being.
In addition to moving retirement funds to an emergency fund, now is the time to back off of non-essentials, like subscriptions or memberships that are not being used. Make a list of everything you are paying for that is not essential—recognizing what you and your family really need, versus what you want—and send those savings to your emergency fund. The cuts may be temporary, but they will add up faster than you expect.
The charges you are not adding to credit cards now for things like dining out, going to the movies, etc., may start showing up as smaller credit card bills. However, don't rush to spend any discretionary income. Rather than apply that money somewhere else, like increased online shopping because you are bored, also put that extra money into your emergency fund.
These are unprecedented times, when the margin for careless spending has become very slim. Be proactive about protecting your financial well-being, so you are able to weather this storm.
Reference: CNBC (March 18, 2020) "Financial planner: Here's when you should temporarily stop saving for retirement during the pandemic"
Suggested Key Terms: Retirement Accounts Pandemic, Savings, Emergency Funds, Credit Card BillsPreparing for an Emergency Includes Power of Attorney
If you experienced a temporary illness or needed someone to quickly step in to pay your bills, would your finances be organized enough for them to handle?
Unexpected events can happen at any time. Without a backup plan, finances are vulnerable. The importance of having an estate plan and organized legal and financial documents on a scale of one to ten is fifteen, advises the article "Are you prepared to hand over your finances to someone in an emergency?" from USA Today. Maybe it doesn't matter so much if your phone bill is a month late but miss a life insurance premium payment and your policy may lapse. If you're over 70, chances are slim to none that you'll be able to purchase a new one.
When estate plans and finances are organized to the point that you can easily hand them over to a trusted spouse, adult child or other responsible person, you gain the peace of mind of knowing you and your family are prepared for anything. Someone can take care of you and your family, in case the unexpected happens.
A financial power of attorney (POA) gives another person the legal authority to take financial actions on your behalf. The person you give this responsibility to, should be someone you trust and who will put your best interests ahead of their own. An estate planning attorney will be able to create a power of attorney that can be very specific about the powers that are granted.
You may want your POA to be able to pay bills, and manage your investment accounts, for instance, but you may not want them to make changes to trusts. A personalized power of attorney document can give you that level of control.
Consider your routine for taking care of household finances. Most of us do these tasks on autopilot. We don't think about how it would be if someone else had to take over, but we should. Take a pad of paper and make notes about every task you complete in a given month: what bills do you pay monthly, which are paid quarterly and what comes due only once or twice a year? By making a detailed record of the tasks, you'll save your spouse or family member a great deal of time and angst.
Is your paperwork organized so that someone else will be able to find things? Most people create their own systems, but they are not always understandable to anyone else. Create a folder or a file that holds all of your important documents, like insurance policies and investment accounts, legal documents and deeds.
If you pay bills online, naming someone else on the account so they have access is ideal. If not, then try consolidating the bills you can. Many banks allow users to set up bill payment through one account.
Keep legal documents and records up to date. If you haven't reviewed your estate planning documents in more than three years, now is the time to speak with your estate planning attorney to ensure that your estate plan still reflects your wishes. Call your estate planning attorney to discuss your next steps.
Reference: USA Today (March 20, 2020) "Are you prepared to hand over your finances to someone in an emergency?"